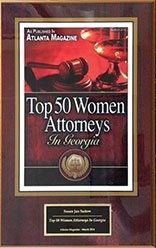 Every year, Atlanta magazine's March issue is devoted to Georgia Super Lawyers. Super Lawyers is published in all 50 states. Susan J. Sadow is honored to be named a Georgia Super Lawyer in the March 2020 issue. She is one of only 5% of all lawyers in the State of Georgia to receive this award. Ms. Sadow was also selected as one of the Top 50 Women Georgia Super Lawyers 2011 – 2020.
Heather D. Froy is honored to be named a Rising Star for both 2018 and 2019 by Georgia Super Lawyers.
Atlanta Magazine's objective was to create a credible, comprehensive, and diverse list of outstanding attorneys that can be used as a resource to assist consumers and attorneys in the search for legal representation in a particular area of the law. Georgia Super Lawyers are selected based upon a statewide survey of lawyers. Atlanta Magazine's attorney-led research staff asks attorneys to nominate the best attorneys that they have personally observed in action. Lawyers are not permitted to nominate themselves. The staff adds additional names by reviewing national and local periodicals and legal journals. The research department examines the background and expertise of each candidate for evidence of peer reviews and professional achievement. Candidates are grouped according to areas of practice. The research staff checks the standing of each candidate with the State and local bar associations. Final candidates are contacted to verify the accuracy of the information before the magazine goes to print. Those lawyers with the highest point totals are selected as Super Lawyers.
Ms. Sadow and Ms. Froy are honored that based on their expertise in the area of workers' compensation law, they have been recognized as Georgia Super Lawyers.