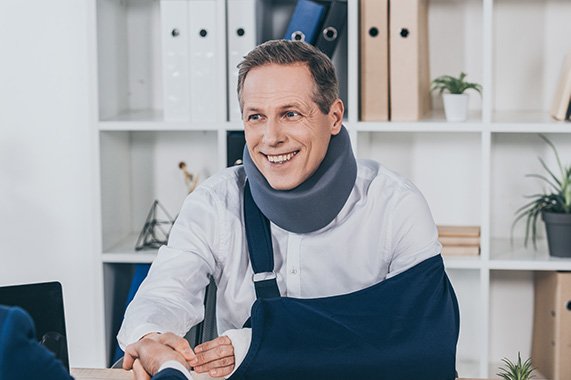 NECK AND BACK INJURY LAWYERS IN GEORGIA
Experiencing a neck and/or back injury at work can bring your employment, and your income, to a screeching halt. These injuries are extremely painful and need to be evaluated and treated as soon as possible by a neurologist, orthopedic surgeon, or neurosurgeon. It is important that you seek the advice and counsel of an experienced workers' compensation lawyer who can set up these evaluations for you and pursue the compensation and benefits you deserve for your losses.
At the law office of Sadow & Froy, we have over 36 Years of experience providing comprehensive workers' compensation representation to individuals in the Atlanta area and throughout the state of Georgia. Our firm handles only workers' compensation cases, allowing us to stay up-to-date on all changes that are made to the Georgia workers' compensation laws. Our legal and medical knowledge greatly assists our clients in making educated decisions about their care. This results in better outcomes.
---
It is crucial that cervical and lumbar injuries are diagnosed properly as soon as possible after an on-the-job accident takes place. Without a proper diagnosis (typically by means of an MRI, myelogram, or CT scan), the treatment that you receive may not be successful. Our firm works hand-in-hand with our clients throughout the entire treatment process, helping them see the correct specialists who will accurately and effectively treat their conditions.
Some of the neck and back conditions that we frequently handle include:
Bulging discs
Herniated discs
Failed back syndrome/arachnoiditis
Cervical and lumbar disc fractures
Clients who have undergone or need laminectomies, disectomies, or fusions
PAIN MANAGEMENT
A key aspect for treatment of many neck and back injuries is pain management. Our firm is familiar with specialists who focus their attention on pain management and can help you understand your options. The better your pain is managed, with physical therapy, medication, injections, facet blocks, or even in some cases spinal cord stimulators, the faster you will begin to receive relief from your painful condition.
WE ARE IN IT TOGETHER!
Contact a back and neck injury attorney at the office of Sadow & Froy today. If you have sustained an injury on the job, get in touch with our office by phone at 770-984-8900 to arrange for your free initial consultation and learn how we can help you. We strive to ensure that our clients obtain proper compensation and benefits for their injuries.