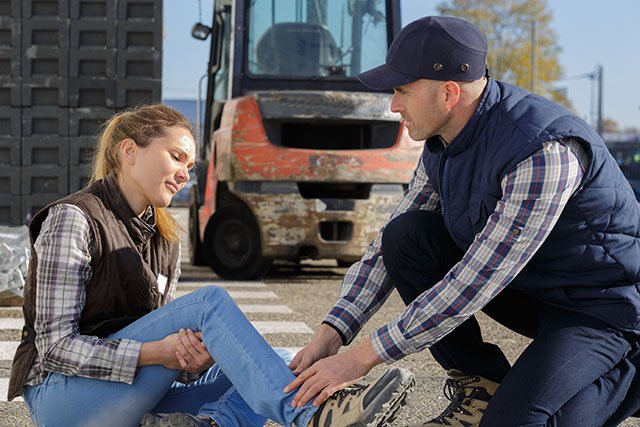 ATLANTA, GEORGIA KNEE AND LEG INJURY LAWYERS
Sustaining a knee or leg injury on the job is an immediate cause for concern. Falls and sudden twisting motions can frequently cause severe injuries to the knee. Knee injuries can be very painful and severely limit your mobility. Without timely treatment, your recovery from a knee injury will be jeopardized. Our priority is to make sure that you get a prompt evaluation by an orthopedic specialist so that your injury will be accurately diagnosed and treated. If you are unable to work due to your knee injury, we will make sure that you receive weekly income benefits as long as you are disabled. At the conclusion of your treatment, we will obtain a permanent impairment rating from your treating physician.
Our staff knows the important role that physical therapy plays in recovering from a knee or leg injury. Successful therapy will greatly assist you in getting as much function back in your knee or leg as possible. We will ensure that the workers' compensation carrier approves your physical therapy visits so that no time is lost in the recovery process. If you have suffered a work-related knee injury, trust your case to the dedicated staff at the law office of Sadow & Froy.
---
We help clients address many different types of knee and leg injuries, such as:
Total knee replacements
Tibia fractures
Fibula fractures
Meniscus, Anterior Cruciate Ligament (ACL) and Posterior Cruciate Ligament (PCL) tears
Our firm is dedicated to handling only workers' compensation cases for clients across the state of Georgia. We are committed to helping our clients understand their rights. We stand by you and guide you throughout the workers' compensation process. At our office, you will discuss your specific needs with attorneys Susan J. Sadow and Heather D. Froy. They have over 47 years of combined experience handling workers' compensation issues for clients across Georgia. Ms. Sadow and Ms. Froy are aggressive partners in the pursuit of the benefits you deserve.
WE ARE IN IT TOGETHER!
Contact a knee injury attorney at the office of Sadow & Froy to schedule your free initial consultation. During your consultation, Ms. Sadow and Ms. Froy will assess your case and determine the best way to pursue compensation and benefits for your knee injury. Call us today at 770-984-8900.