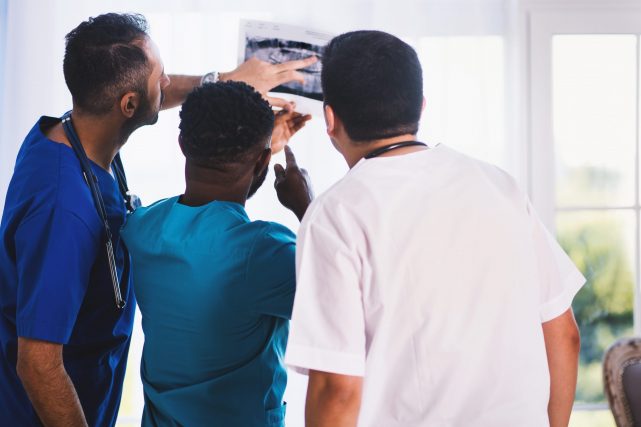 Medical Treatment Concerns
GEORGIA ATTORNEYS KNOW THE BEST MEDICAL PROVIDERS FOR YOU
When you are injured on the job, top-quality medical care is essential for the best possible recovery. We know which medical specialists to send you to. It is our job to direct you to highly qualified doctors who care about your welfare and not about the best interests of the insurance company.
The medical treatment that you receive for your work-related injuries will have a huge impact upon the outcome of your workers' compensation case. The way that your treatment is handled affects both your physical recovery and the settlement that you eventually receive. Access to proper treatment in the workers' compensation system can be difficult. Turn to an experienced workers' compensation lawyer at the office of Sadow & Froy in Atlanta, Georgia, for help. We have the background and know-how to stand up for your rights.
---
Our firm understands that your health is important to you, and it is equally important to us. We are here to guide you through the complicated Georgia workers' compensation (commonly known as "work comp") system. Contact us to learn more.
DID YOU RECEIVE PROPER TREATMENT FROM A PHYSICIAN ON YOUR EMPLOYER'S POSTED PANEL?
It is important to report any work-related injury immediately. When you are injured on the job, your employer and their insurance company generally have the right to dictate which doctor you see for treatment. After reporting your injury, you need to find out if your employer has a posted panel of physicians in place (including the names, addresses and telephone numbers of doctors who are authorized to provide medical treatment to you). Under Georgia law, a panel must consist of six or more physicians. If you select a physician from the panel without the advice of an attorney, your entire case could suffer.
The employer and their insurance company make every effort to control all of the medical care that you receive. However, employers often make mistakes when setting up panels. We will immediately recognize these mistakes. Injured workers have the right to challenge the validity of a panel. If your employer's panel is found to be invalid, you may be free to go to a doctor of your choice at the expense of the employer and their insurer. You may only be able to change to a different doctor on the panel one time in your case. We can help you determine which doctor will provide the best results for you. You will benefit from our guidance when making important decisions about your medical care.
Often employers select panel doctors who they know will release injured workers to return to work very quickly with no restrictions. An experienced workers' compensation lawyer can help prevent this from happening in your case. Proceeding without the advice of a skilled workers' compensation attorney like Susan J. Sadow and Heather D. Froy can mean that you make choices which compromise your treatment and your ability to recover from your injuries.
WE ARE IN IT TOGETHER!
Contact an experienced attorney at Sadow & Froy to schedule your free initial consultation. Call us by phone at 770-984-8900 and let us help ensure that you receive the medical care and workers' compensation benefits you need and deserve.